Easily located for your convenience!
Directions
We are located In the Bottleworks complex, nestled between lululemon and Express Nails.
Bottleworks has a large parking lot behind the complex on Meigs. There is also a small horseshoe shaped lot between the buildings on Prince. Street parking is also available.

New Parking Fee Structure (EFFECTIVE AUGUST 1):
0‐60 minutes: $1.00
61‐120 minutes: $2.00
121‐180 minutes: $4.00
181 minutes‐10 hrs.: $5.00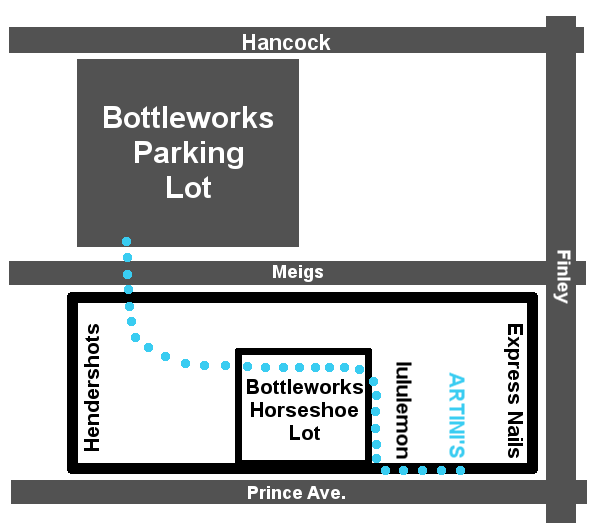 Contact Information
Contact us via phone or email, or use our handy Chat Box in the bottom right hand corner.
Owner/Lead Artist: Kate Cook
Phone: (706) 353-8530
Email: kate@artinisartlounge.com
337 Prince Avenue
Athens, GA 30601
In the Bottleworks complex between lululemon and Express Nails

Open Studio Hours
Daily 10am - 3pm
Please do check the calendar, however, as private parties may book and we don't have a separate party room...yet. If a private party is on the schedule, then there is no open studio.
Guided Painting Sessions
Wed 7pm
Thurs 7pm
Fri 7pm
Sat 4pm & 7pm
Sun 4pm
*Please check the calendar for information for if there are little or few sign ups we do reserve the right to cancel the class.
Have a general question or interested in opening your own ARTini's?
Let's talk about it!
Contact us by using the Chat Box in the bottom right hand corner of your screen.