Easily located for your convenience!
Directions
We are located In the Bottleworks complex, nestled between lululemon and Express Nails.
Bottleworks has a large parking lot behind the complex on Meigs. There is also a small horseshoe shaped lot between the buildings on Prince. Street parking is also available.

Parking Fee Structure:
0‐60 minutes: $1.00
61‐120 minutes: $2.00
121‐180 minutes: $4.00
181 minutes‐10 hrs.: $5.00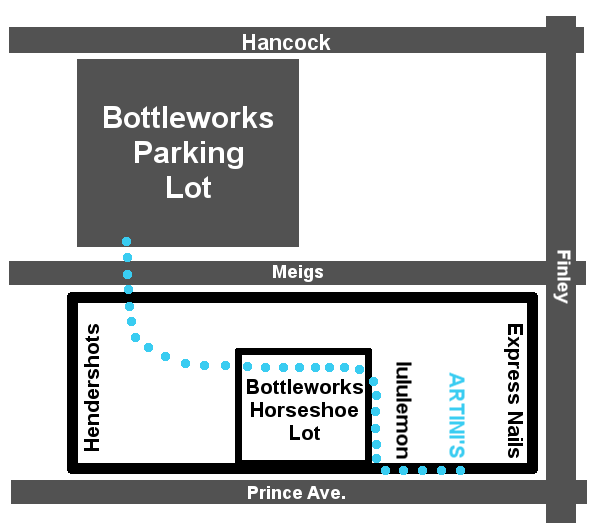 Contact Information
Contact us via phone or email, or use our handy Chat Box in the bottom right hand corner.
Owner/Lead Artist: Kate Cook
Phone: (706) 353-8530
Email: kate@artinisartlounge.com
337 Prince Avenue
Athens, GA 30601
In the Bottleworks complex between lululemon and Express Nails

Open Studio Hours
**Open Studio Hours are suspended until further notice due to Covid and not having the business to warrant being open daily. We hope to get back to this as soon as possible!**

Daily 10am - 3pm
Please do check the calendar, however, as private parties may book, and we don't have a separate party room...yet. If a private party is on the schedule, then there is no open studio.
Guided Painting Sessions
Wed 7pm
Thurs 7pm
Fri 7pm
Sat 3pm & 7pm

*Time subject to change if a private event books. Please check the calendar for information for if there are little or few sign ups we do reserve the right to cancel the class.
Have a general question or interested in opening your own ARTini's?
Let's talk about it!
Contact us by using the Chat Box in the bottom right hand corner of your screen.